Marriage is all about compromise…at least that's what my parents tell me, and I guess since they've been married for 33 years, I should take their word for it. But when it comes to decor ideas in the house, Robert and I don't always see eye to eye. For the most part, he goes along with my plans and actually gets excited about them along with me, but every now and then he voices his own ideas that are totally opposite from mine. And then I'm stuck. Do I keep with my design vision or do I let my hubby have what he really wants? The biggest debate of all for us: The Man Chair.
I'm not going to deny it. I've sat in some "ugly" recliners in my time that were dang comfortable. But they were also complete with some rips, saggy cushions and lines that were more like pillow puffs than lines (any interior designer would cringe…you know they would).
Don't get me wrong. I'm not going to be a total snob to my husband and say, "Well, you can't have a recliner because I think they're ugly." Because actually, I've come across some gorgeous "man chairs" that I would be proud to have in my living room.
This one in particular is one of my absolute favorites:

Source
Swoon! And that is one manly chair right there. Worn leather and nailhead make everything better, right? I seriously just want to snuggle under a blanket on that chair and read a book. Once I saw this inspiration, it gave me hope. And I kept finding living rooms with a beautiful balance of feminine cottage style with the masculine touch of a leather chair.

Source
I'm already in search of a cabinet similar to Melaine's from My Sweet Savannah in this inspiraiton. A distressed white glass-front cabinet beside a dark leather chair is the perfect yin and yang, don't you think?

Source
We had thought about a reclining club chair like those top three, but the leather wingbacks take it to a whole new level. I'm pretty sure Jay Gatsby and Sherlock Holmes would agree.

Source
After I showed some of these inspirations to Robert, we were able to strike a compromise.
He wanted it to be big, comfortable with plenty of cushioning, and for it to recline.
I wanted it to have legs (no rocker/swivel action) and clean lines. No marshmallow chairs in our living room! And we both agreed we wanted leather.
This was a big no:
(Although, I guarantee if you own one of these, you are the most comfortable person in the world because I bet that chair hosts some spectacular naptimes.) I can't deny it looks like George's puffy coat from Seinfeld.
So then, the eye-opening part was actually pricing our beautiful inspiration chairs. Whew! They're a pretty penny, that's for sure.
Ballard Designs- $1299
Pottery Barn- $1199 (But this one doesn't recline…sad face)



Thomasville (The price wasn't listed, but I guarantee it's anywhere from upper $1000 to $2000.)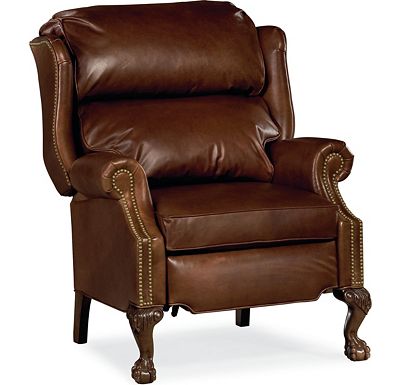 Ethan Allen- $2,189

Havertys- $2,699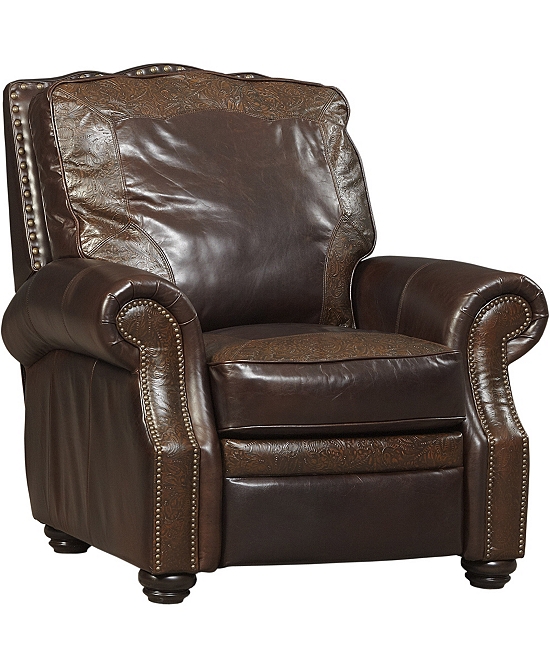 Bradington Young- $1,498
We were ready to start saving our pennies and it looked like we would actually be able to own one by the year 3080. So…not gonna happen unless something changed drastically in the money department.
But THEN, (y'all know me and my Goodwill addiction) I found the Bradington Young chair (pictured above) for…wait for it…$65! WHAT?! And it was in nearly perfect condition!
Goodwill $65


Olivia refused to get out of it so that I could go to the register to pay for it. She instantly approved. (Sorry for the cruddy quality cell phone photo.)


I have no idea how we got so lucky. Maybe we should go buy a lottery ticket. Although, this is like winning the lottery already.
So we are currently cleaning it and buffing out a few minor scratches on it. Thanks to our lucky find, it saved us over $1400! And our marriage is spared any further debate thanks to the man chair compromise. 🙂 It's a little more "puffy" than I would have personally chosen myself, but I think it's totally fine considering how comfortable it is.
What decor compromises have you made in your house?
Follow me on
Or find me on
Linked Up: