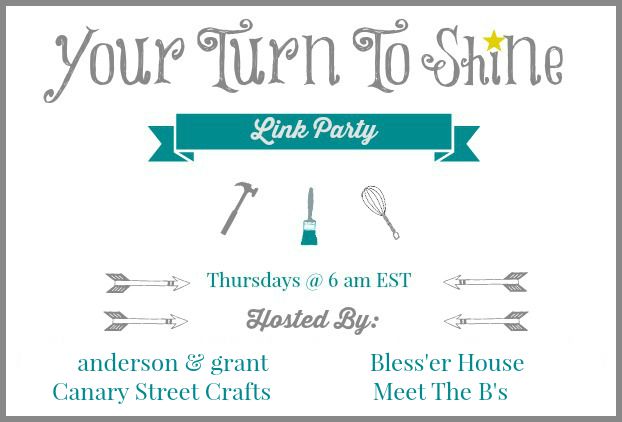 I cannot believe we've hit week #50 of this link party!  Let me tell y'all, 50 weeks ago, this blog was so tiny I was pretty sure only my mom read it.  I poured my soul out into this little corner of the internet and…crickets.  And I thought that's all it would ever amount to.  Boy, was I wrong.
So much of my little bit of success with blogging has come from link parties.  Once I started "meeting" other bloggers at link parties and sharing my DIY adventures and finding others like me,  something clicked.  I made friends!  Legitimate people who understand my soul kind of friends.  There truly is nothing like blogging in the world, where "work" is so creative it doesn't feel like work at all and your "coworkers" are your cheerleaders any time you need them.  I love you guys.  I really really do.
Wherever you are in blogging, a newbie or been around the block a few years, I hope you know there is so much more to link parties than getting daily pageviews.  Don't focus on numbers.  I owe so many of my friendships and opportunities to taking a few minutes out of my day to share and visit.  I hope you love being here as much as I love having you.  Keep on linking, baby!  You are inspiring and you have a story to share.
 Blessings,
Lauren
Lauren – Bless'er House
Muted Fall Tablescape | Fall Home Tour: Part One | Fall Home Tour: Part Two
Lauren   ||  Facebook  ||  Instagram  ||  Pinterest  ||  Twitter   ||  G+
Jamie – anderson + grant
Decluttering Accessories  || Farmhouse Fall Home Tour  ||  Rustic Birch Bark Pumpkins
Jamie  ||  Facebook  ||  Instagram  ||  Pinterest  ||  Twitter
Vicki & Amy – Canary Street Crafts

Adding Detail To Furniture With Washi Tape || Duck Egg Blue Table
Vicki & Amy  || Facebook || Instagram || Pinterest || Twitter || G+
Gift Idea- Last Name Sign || Painted Jewelry Box || Wine Cork Storage Crate