DIY Restoration Hardware Finished Mirror
Hola chicas! …And maybe some chicos (if you're a dude checking out my brain on DIYness, you're awesome for hanging with us cool people.) I'm wrapping up the frenzy of projects I've had going on in our foyer from the past two weeks, and I have finally reached a point where I'm happy enough to leave this little room alone for a bit while I tackle some other rather desolate looking parts of the house.
So if you are a Restoration Hardware junkie like me, I have a super easy way to get the RH finish for a steal. (Because let's face it, unless you are Jay-Z and Beyonce, chances are you don't consider their prices to be exactly affordable.) I'm not even kidding when I say I did a happy little bum wiggle victory dance when I finished this project.
If you haven't seen some of the Restoration Hardware mirrors, let me take you on a little tour of some distressed antique-inspired fabulosity.
Exhibit A: (Price $995)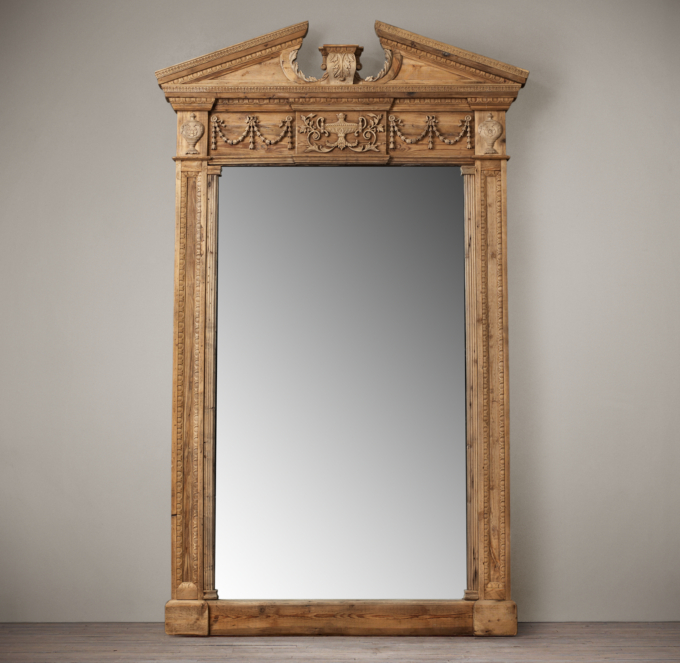 Exhibit B: (Price $425)
Exhibit C: (Price $345)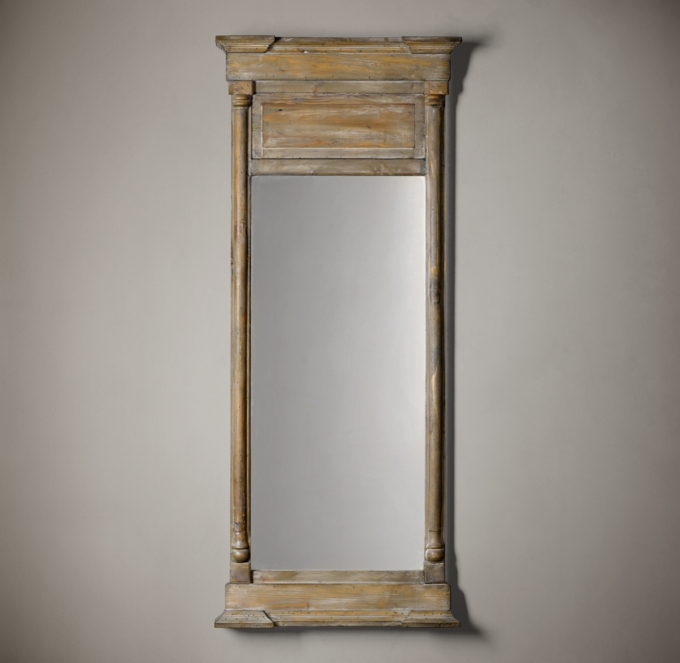 And here are my humble beginnings:
Back when we moved into this house in December, I was on the hunt for an antique, chalk-painted dresser, which I luckily found (and you can see
here
). But Robert and I decided we weren't into the whole matchy-matchy look of a dresser/mirror set, so I stored the mirror until I could decide what I wanted to do with it. Lo and behold, I figured it out!
(P.S. See those half painted dining room chairs in the reflection in my garage? I will finish those dang chairs if it's the last thing I do. It's taking days at a time. Blah!)
While I was researching some refinishing options, I stumbled upon this
Maison Bed tutorial
by Imperfectly Imaginable, and I instantly knew the direction I wanted to take.
Here's what you will need:
Primer
1 Quart Valspar Flat in Montpelier Ashlar Gray
1 Can Briwax in Tudor Brown
Several Old Rags
1 Good Quality Paint Brush
And here's the run down:
I chose to prime the wood just to be on the safe side. I used my usual Zinnser spray primer. Once the primer was dry, I did two coats of Valspar Montpelier Ashlar Gray in a flat finish. Be sure to use flat or the next step won't be as easy. I recommend using a good quality bristled brush so that you get some texture with brush strokes on there. Brush strokes are our friends here. 🙂
After the paint has dried (I let it sit for at least 24 hours), use a dark wax. I used
Briwax in Tudor Brown
(Amazon affiliate), which is half the price of the Annie Sloan wax. (The ASCP stuff is awesome, but I was trying not to break the bank here considering this was really experimental.)
I used an old washcloth for a rag to dip in the Briwax and wipe onto the painted wood frame. Wait only about 30 seconds and then wipe the wax off gently. Be careful not to rub too hard or you could end up taking the paint with it, and it could cause a big mess (speaking from experience on this one where I let a few choice words fly…oops). Test it out on a scrap or the backside of the piece first just to be safe. Work in sections so it doesn't dry before you can wipe it off. (Anyone referencing Mr. Miyagi in their heads right now? Wax on, wax off.)
Here's what it looked like after wiping off the wax:
For any of the smaller areas where it's difficult to get in a rag, I used a small artist brush dipped in wax and lightly applied it into the corners and cracks. I didn't really wipe up these parts because it created a little more dimension like a glaze would.
Once it was dry, I put it into action in our new foyer. I thought about hanging it, but I actually liked it leaning on the wall instead (not to mention it was super freakin' heavy). Robert and I tested it to be sure it wasn't going anywhere.
I'm so pleased with how it turned out to be this French Country inspired foyer. It's interesting to see how a space can evolve into something you had not at all envisioned in the first place. I still plan on adding some more wall art and a runner (and maybe one day a little board and batten), but this is the way it's going to stay for a while.
In case you'd like a breakdown of where everything came from, here it is:
Industrial Sphere Pendant Light-
DIY
($22)
Entry Table- Craigslist $75 (still needs refinishing)
Framed Black and White Landscapes w/ Burlap Mat-
DIY
($5)
Bronze Lamp- Goodwill ($2)
French Script Burlap Lampshade- Ross ($9)
S Initial- Hobby Lobby ($4)
Planter Basket- Marshall's ($10)
Topiary- Home Goods ($15)
Baskets- Already owned (Bought from Hobby Lobby 2 years ago)
Vintage Books- Goodwill ($1 each)
Glass Bottles- TJ Maxx ($7 total)
Suitcase- Already owned (Originally owned by my grandmother in the 1950s)
White Pitcher- Goodwill ($1)
Total Cost of our Foyer: $155
Whew! That's a lot of stuff. Can you tell I'm a Goodwill addict? That list is a little embarrassing. I'm really thinking I need to do a Goodwill link up party sometime soon because I know you guys have found some great things. And I do too much of the talking on here anyway. 😉
Have a great weekend, y'all!