Lowe's Makeover Bathroom Reveal
A team of 6 DIYers take on a bathroom makeover in 48 hours to transform a plain, builder grade space to give it character and modern farmhouse charm.
Thank you to Lowe's for sponsoring this post. As always, opinions and content are my own.
This post makes me want to scream from the rooftops, y'all! I've been bursting at the seams to share a BIG room makeover that we've been keeping a little secret about.
If you remember way back a few months ago, I announced that I was teaming up with Lowe's for a makeover in someone's home anywhere in the United States. There were so many great contenders who submitted their kitchens, bathrooms, and outdoor spaces that had tons of potential. I wish we could have given makeovers to all of them!
But a space that was just oozing with possibilities was this bathroom in Texas…
The homeowners' story stuck with me. Bethany and Levi shared how they have been married for 7 years and live in a suburban builder grade house right next door to Levi's family. Bethany just graduated and works as a mental health counselor intern, while Levi is a wedding videographer and drummer in a worship band. Funds for home improvement don't come easily.
They love hosting friends and family in their home and talk to their dog and two cats like they're their children (and uh… guilty! I do that too). Something about them just reminded me so much of Robert's and my story.
Bethany mentioned, "If I have learned one thing about myself in the past few years, it's that my environment affects everything about my physical, spiritual, and mental health. I am so not crafty nor handy and so the bathroom has been one room that I haven't been able to change. I would love to be able to wake up to a calm bathroom in order to start my morning off right and prepare for the day."
Back in April, after lots of planning and preparing, Robert and I flew out to their home along with an incredibly talented team of bloggers: Rachel from Maison de Pax, Jenna from Rain on a Tin Roof, Nina from Nina Hendrick Design, and April from House By Hoff.
And we had two days to flip this space.
Totally doable, right? The room had good bones, and we had to keep time constraints in mind to make it all happen.
Robert and I (and the rest of our team) are not contractors with a wide array of skill sets, but giving a room wow-factor sometimes only needs mostly non-demo cosmetic changes. And this bathroom had that potential.
One of the big issues was Bethany and Levi's shower door, which was cloudy and rusted to the point where it wouldn't even close all the way. So the first task on the agenda was to rip it all out along with the faucets and light fixtures (okay, so maybe there was a little demo).
I'm not sure if this is Robert's excited face or scared face, or maybe a little of both. Ha!
There were so many projects that went awry in this makeover, and we were all constantly problem solving to make it work. But I could not have asked for a better team. It was MAJOR girl power all weekend, plus Robert's muscle. Poor guy got a big workout in those two days with 5 women hustling around, but he's always a good sport.
And despite all of the stress and hard work to get it done, we had a lot of fun and a lot of laughs.
Nina was the cabinet painting pro.
Rachel built a barn door and rigged two tracks while 8 months pregnant!
Jenna was on hardware duty most of the time putting in light fixtures, building a mirror frame, and installing cabinet pulls.
April painted the walls, handled touch-ups, and ran all over San Marcos to buy the millions of supplies we were constantly needing. It was all such a rush, I didn't even get a chance to snap a picture of her in action. (Bad blogger on my part.)
And I ran around doing every odd job I could find… like balancing on a bathtub to wrestle with a chandelier.
For every single project, there were multiple people pitching in. It was the biggest rush and best relief to see it all come together in the end.
So remember that basic bathroom before?
Bethany and Levi stayed out of their master bedroom and bathroom all weekend to be fully surprised, and it was the best feeling in the world to see their reactions.
They were the absolute sweetest couple, and we couldn't have asked for more welcoming hosts.
The Shower Door
Their cloudy, rusted shower door got a full replacement and made a huge difference in this space! We chose oil-rubbed bronze to create contrast.
And the larger shower head makes it more of a spa-like experience.
The Lighting
This chandelier is the perfect blend of glam and industrial for a feminine/masculine balance above their tub.
We swapped the old Hollywood style vanity light for these seeded glass bronze ones too.
The Colors
To add some color, we painted the cabinets in Sherwin Williams Slate Tile (which I've since used in our laundry room because I love it so much.)
We also decided to paint the walls in Sherwin Williams Gray Screen for a light gray/blue to give the room a calming mood.
To continue with the bronze finish and create contrast, we swapped the old pulls for these more industrial style ones.
Small Changes, Big Impact
We left the builder grade mirror intact and framed it out with pine boards stained in Minwax Dark Walnut for a little touch of rustic.
And to freshen up the tile floor, we painted the grout with Valspar Duramax paint in the color Du Jour for a quick, simple solution.
Adding Function
Since the water closet wasn't really a water closet at all without a door, we built a barn door from scratch to fit the 9 foot opening and rigged a header for a sliding barn door track to make that corner more private and functional.
To help with traffic flow and to prevent the old bathroom door in the bedroom from slamming into the newly built barn door, we decided to use an unfinished barn door kit, stained it with Minwax Weathered Oak, sealed it with polyurethane to protect it from moisture, and hung it up on a sliding track. It added so much gorgeous texture but was equally functional too.
The Faucets
For the sink faucets, we installed these curvier bronze ones for a more feminine look on their existing white cultured countertop.
Adding Art
And to add some softness in contrast from the rugged wood and dark metal in the space, we hung up this set of botanical prints. They helped to balance that frosted window and filled up that odd blank wall.
This pretty blue botanical print coordinated perfectly beside their vanity for a more modern spin on farmhouse art.
Storage, Storage, Storage
We threw in lots of organization and storage for making this bathroom super functional, like these hooks right beside the shower door.
And in the water closet, above the toilet, we removed the existing cabinet doors to create open shelving filled with apothecary jars and baskets for toiletry items. We painted the back of the cabinet the same color as the vanity cabinets to add some depth and tie in with the rest of the room.
Natural Elements
Once we added in faux succulents and silk flowers, this entire room sprung to life! Plants are magical like that. By incorporating plenty of natural textures like greenery, wood, woven baskets, delicate glass, and light textiles, the room took on so much charm.
It was certainly not an easy job, and probably the most challenging project we've ever done, but every ounce of hard work and every bump in the road was so worth it.
I feel incredibly blessed to be a part of it and am thrilled with how it all turned out. But most of all, I'm ecstatic that the homeowners love it just as much. They are so deserving of a space just for them where they can recharge and continue to bless others with their talents.
If you're wondering about any sources used in this bathroom, here is the full breakdown listed below (or you can hover over the photos for direct links):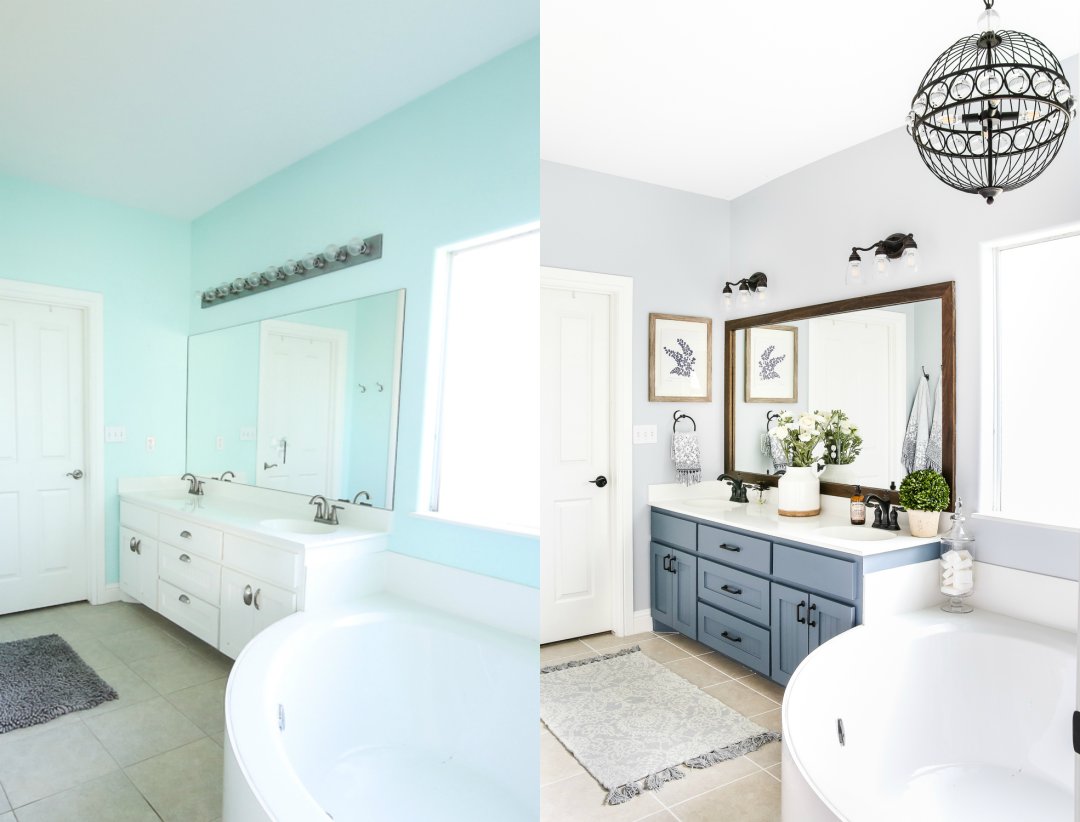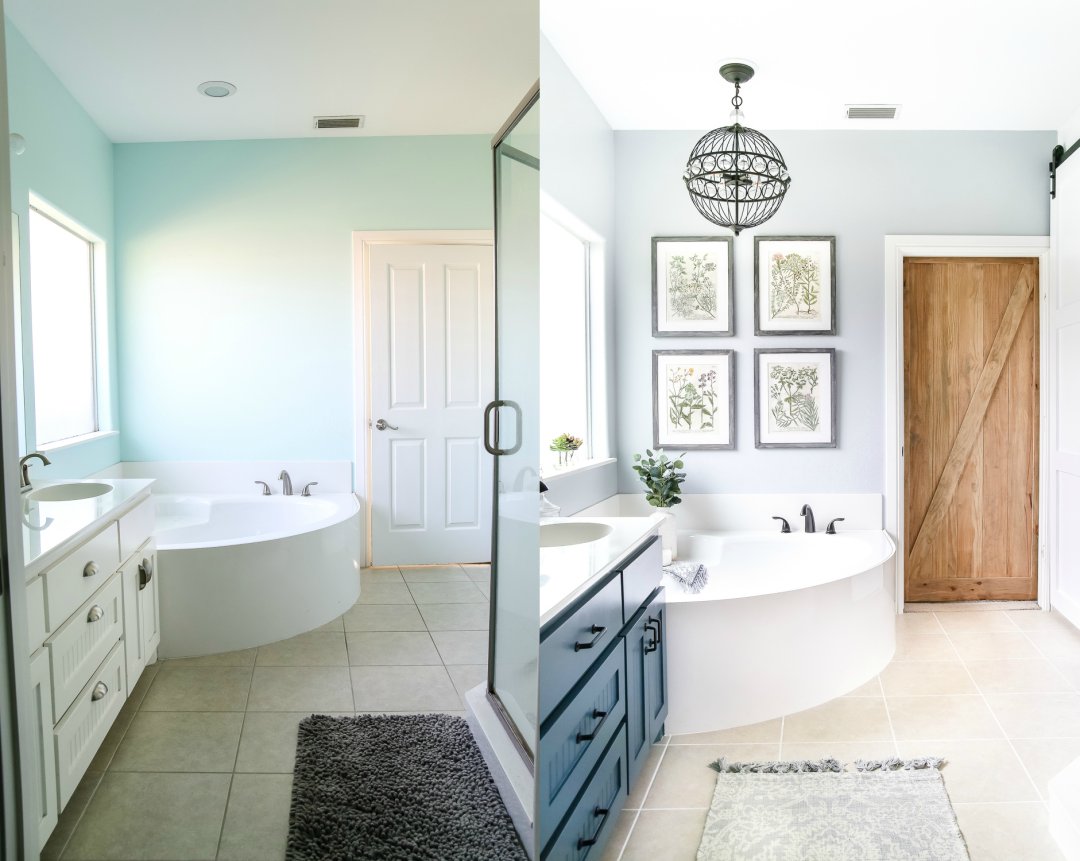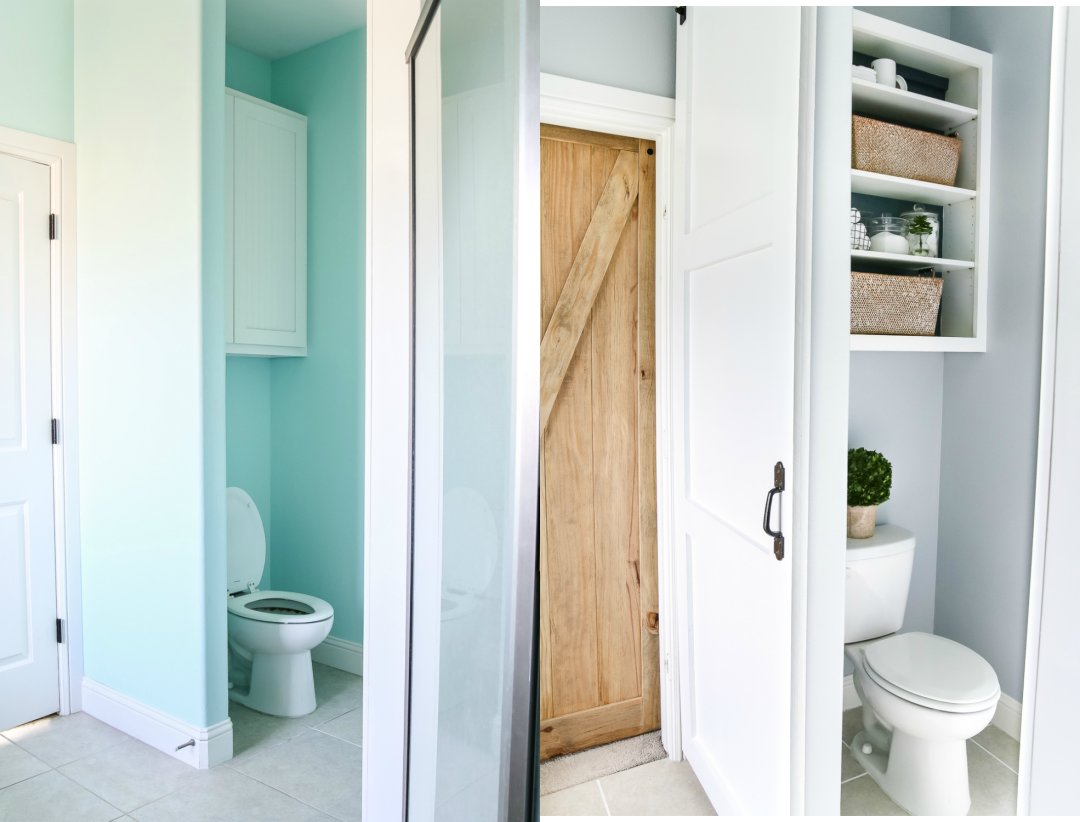 Wall Paint: Sherwin Williams Gray Screen
Cabinet Paint: Sherwin Williams Slate Tile
Grout and Barn Door Paint: Valspar Du Jour
Mirror Frame Stain: Minwax Dark Walnut
Barn Door Stain: Minwax Weathered Oak
Sink Faucets
Shower Head
Chandelier
Vanity Lights
Seeded Glass Vanity Shades
Botanical Prints
Barn Door Kit
Blue Botanical Art
Boxwoods
Succulents
Cabinet Pulls
Wall Hooks
Door Knob
Toilet Paper Holder
Towel Ring
I can't end this post without a HUGE thank you to Lowe's and to the incredible team who made it all possible. This entire project really is a proof that a basic builder grade space can have character with some hard work and imagination (and plenty of good ol' teamwork).